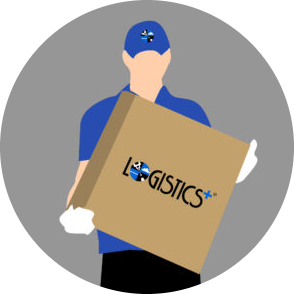 A recent article published by CSCMP's Supply Chain Quarterly, written by Jonathon Byrnes and John Wass, suggests that implementing a balanced inventory management strategy is essential. The biggest question facing managers today is whether their supply chains should be just-in-time (low inventories) or just-in-case (high inventories).
You can read the full article here: How To Resolve Your Inventory Dilemma.
The article focuses on three points concerning inventory management dilemmas. They are presented here with a note under each regarding how Logistics Plus can help.
Make the right promises. A company should offer different service intervals based on the customer profit segment. For example, profit peak customers with steady demand provide your core profitability. These customers should be able to get what they need at any time. Service intervals for profit peak customers should be one-day or less. On the other end of the spectrum are profit drain customers with variable demand. These customers have erratic demand, and it is not necessary to hold high levels of local stock. Instead, these customers should have a service level of about three days, enabling you to bring stock in from a central warehouse. Figure 1 (below) shows the different service intervals based on customer segments.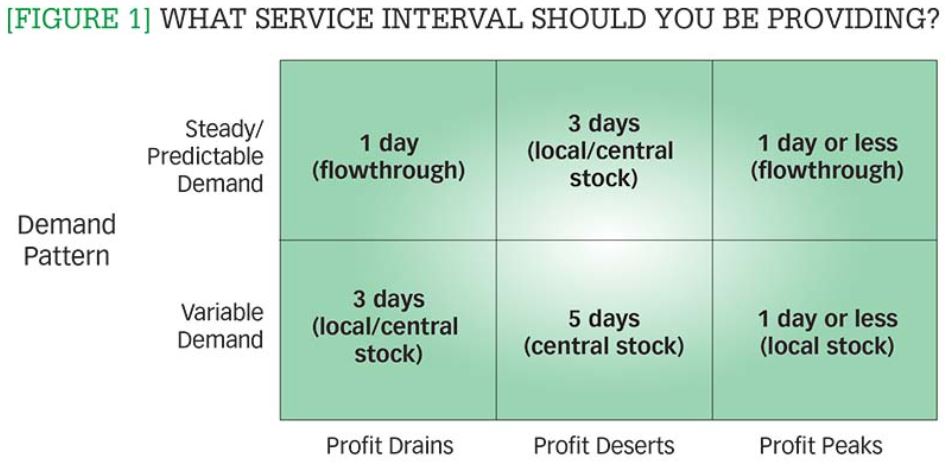 As a company known for saying YES, not NO, Logistics Plus works with each customer based on their exact needs. We understand that no two customers are the same. Our team offers warehousing and distribution services that are just the right size, in just the right place, for just the right length of time. You don't pay for space you don't need. We can diagnose your warehousing challenges, develop inventory management solutions, and then make those solutions work when it matters.
Manage your account relationships. Customizing your service intervals to match profitability and demand will help keep your inventory low and service levels high. The key to managing account relationships is to be clear about the "rules" of how you will serve your customers. If you keep your promises, retaining your clients becomes more manageable. If profit drain or profit desert customers want the fastest service available, they must pay compensatory prices.
Logistics Plus is committed to providing the best warehousing services possible. Our values reflect our belief in the highest level of service and technology. A focus on delivering the highest level of savings and efficiency is why our clients become long-term customers. We work with customers to ensure their goods arrive at their destination on time and in perfect condition. We provide excellent service and an unwavering commitment to helping them achieve their goals.
Manage your supply chain. Holding the proper amount of inventory for each customer segment is manageable. By tailoring inventory strategies to each customer profit segment, managers can boost profitability by providing the right set of incentives for each profit segment. For example, Profit peak customers should get consistently fast service with a constant priority on inventory. Profit desert customers should also receive appropriate service promises that they can rely on, giving them an incentive to grow their business and profitability to profit peak status.
As part of your team, we can look up and down your supply chain, identify the weakest links and repair them. You can rely on our team of industry-leading warehouse experts to solve your inventory challenges and significantly improve performance while positively impacting your profitability. By determining the current performance of your supply chain, we can optimize your inventory levels and set up distribution facilities to help you save.
The notes above are just a few thoughts regarding commonly faced inventory dilemmas. Logistics Plus is ready and willing to work collaboratively with our customers to create value and customized solutions that fit their needs. Contact us today to learn more.