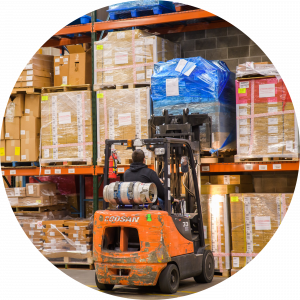 More than ever, choosing the right warehousing and fulfillment partner is crucial to your business's success. As the e-commerce world continues to grow, consumers expect fast delivery times and quality services. First and foremost, your warehousing partner is responsible for storing your product safely. They will also act as an extension of your operation before your products reach your customers. Whether you're a startup or an established company, choosing the right warehousing and fulfillment partner is an important consideration.
Here are the top things you should consider:
1. Warehouse Location

Identify which cities and states most of your orders originate from and prioritize a warehousing and fulfillment partner with locations in those areas. If you have customers across the country, look for a partner with an expansive warehousing footprint. Since transportation costs tend to make up most logistics expenses, having warehouse locations close to your customers can greatly benefit you.
2. Pricing

There is a price for everything when it comes to warehousing and fulfillment. After outlining your requirements and service needs, make sure you receive transparent pricing from your warehouse partner. The number of orders shipped, the number of items picked, warehouse management fees, pallet storage, and packaging costs are all things you should know upfront.
3. Market Knowledge

Even if the location and pricing seem to be right, make sure your warehouse partner is familiar with your sales market or industry. Don't make the mistake of choosing a warehouse that handles mainly industrial cargo if you are running an apparel company. With retail requirements becoming more complex, a warehouse partner with experience in your market will serve you well.
4. Services Offered

Your warehousing and fulfillment needs will likely change as your business grows. After confirming that your current requirements are covered, find out more about other warehousing services offered by your partner. Down the road, you may find yourself in need of those services for things like importing and exporting, transportation management, customs brokerage, trade compliance, business intelligence reporting, etc. Like Logistics Plus, many warehousing and fulfillment partners offer a wide variety of solutions to meet the client's exact needs.
The video below highlights various warehousing services Logistics Plus offers. It is also available on the Logistics Plus YouTube Channel.
Want to learn more? Contact us today to find out why Logistics Plus is consistently named a Top 3PL Provider and Top Warehousing Firm.