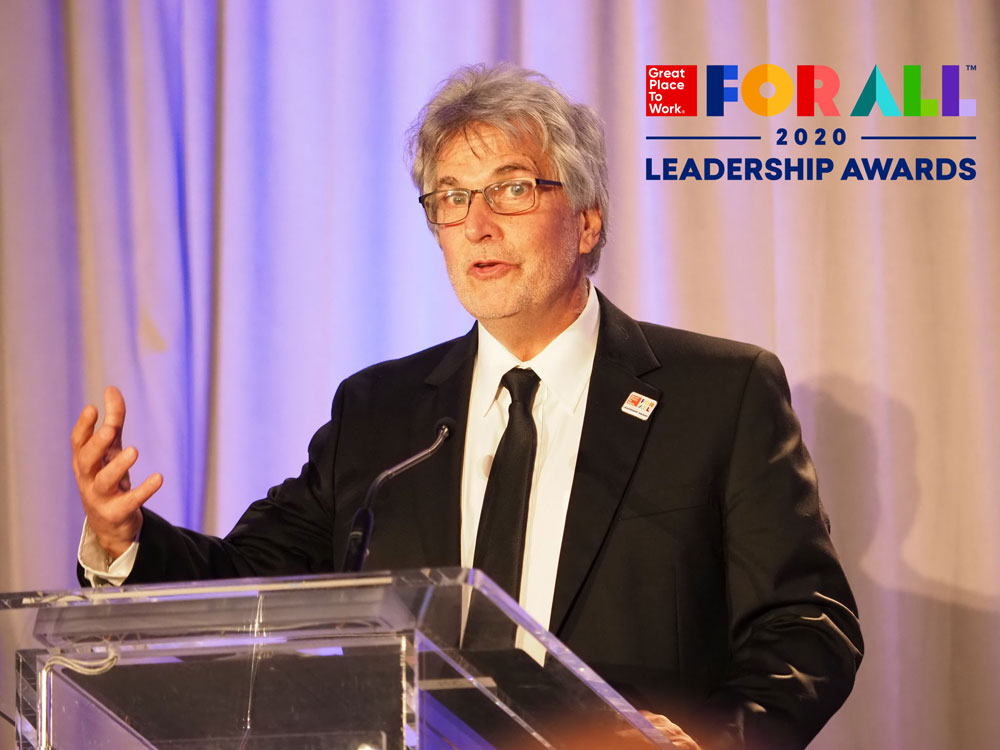 As announced yesterday, Logistics Plus Inc was proud to announce that Jim Berlin, its founder and CEO, was recognized Tuesday, March 3rd, with a "CEO Great Place to Work For All Leadership Award" by Michael C. Bush, CEO of Great Place to Work, at its 3rd annual Leadership Awards Gala Dinner at the Four Seasons in San Francisco.
If you're interested, here is a copy of the short acceptance speech that Jim delivered at the ceremony:
"Thank you to Michael Bush and everyone here at Great Place to Work. Your efforts help inspire companies and leaders to create the best workplaces in the world, and to recognize them when they do. Thank you for that. Our formula at Logistics Plus has been pretty simple and it really hasn't really changed much in the 24 years we've been in business.
Honesty. Integrity. As my Dad always told me, 'In the end, your good name is all that's left'.
'Give a shit'. That matters more than most people think.
Find ways to YES; It's easy in our industry to say 'No…sorry…can't do that'. BUT people LOVE folks who bring them SOLUTIONS/and not PROBLEMS. We are a SOLUTIONS company. We find ways to YES!
KISS—Keep it simple. Find simplifiers/not complicators.
We have very few company rules other than The Golden Rule: Treat people as you'd like to be treated. Just follow that/we'll be ok. The rest we can figure out as we go.
Focus on the MISSION, not just the money. Success at one will lead to the other.
Have and maintain a 'Passion for Excellence' (that has been our 'trademark' since Day 1).
And strive to grow. Growing is challenging but fun. (If someone ever complains about the pace of our growth, I always tell them: 'If you don't like growing pains…you're REALLY gonna not like dying pains').
And lastly … try and make work fun. If people like to be there, everyone benefits. We all spend more time with our workmates than we do with anyone else. Make it enjoyable to be there—not drudgery.
For our part, at least, this simple formula seems to be working. Logistics Plus has grown from 3 of us to become a $300 million global organization in 20 countries with thousands of customers and almost 450 talented and caring employees around the world. This ex-truckdriver couldn't be more humbled or more proud of these fine people. Thanks again for this fantastic honor and for a most memorable and inspirational evening."
– Jim Berlin, Founder & CEO, Logistics Plus Inc.


Jim joined a 2020 awards list that includes fewer than 50 CEOs from some of the most admired companies in the world, such as American Express, Delta, DHL, Marriott, Salesforce, and Wegmans. A PDF copy of the program with a complete list of CEO honorees and profiles is available here (Jim's profile is on page 11).  Jim's profile is also shown below: