Logistics Plus Announces #NationalLogisticsDay Photo Sweepstakes
Logistics-related photos with the #NationalLogisticsDay hashtag earn qualifying entries.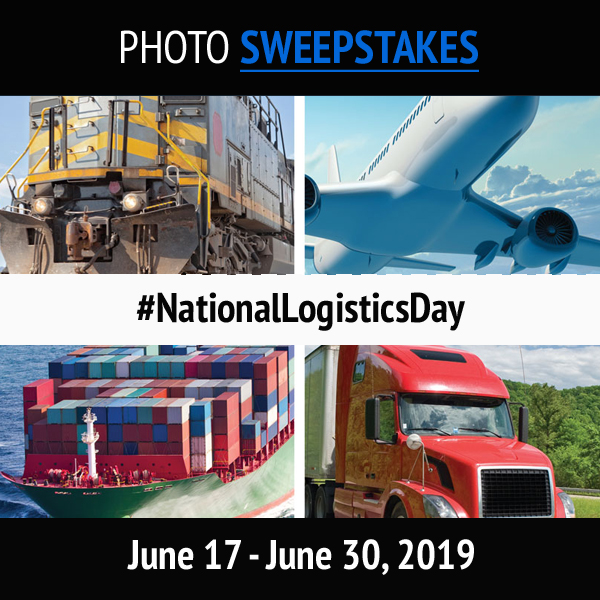 ERIE, PA (June 17, 2019) – Logistics Plus Inc., a leading worldwide provider of transportation, logistics and supply chain solutions, has announced a fun, new #NationalLogisticsDay photo sweepstakes as part of its celebration leading up to National Logistics Day on Friday, June 28th.
To enter the sweepstakes, simply take a photograph of yourself (i.e., a "selfie") near any old or new logistics-related equipment or location (e.g., semi-truck or truck depot, cargo plane or airport, railcar or train station, container ship or port authority, etc.) and then upload it to either Instagram or Twitter with the hashtag #NationalLogisticsDay noted somewhere in the text portion of your post. Each photo posted with the correct hashtag will count as a qualified entry. The sweepstakes will run from Monday, June 17th through Sunday, June 30th. One winner will be randomly selected on Monday, July 1 and will receive a $100 electronic gift card to Amazon.com PLUS a Logistics Plus prize pack containing a die-cast replica model truck, a National Logistics Day t-shirt, and other fun stuff.
About National Logistics Day
National Logistics Day™ was created to recognize and appreciate the importance of the logistics industry in both our national and global economies. It will be celebrated annually on June 28th. Logistics accounts for nearly 8% of everything we make and sell in the United States, and more than 50 million people are employed worldwide in the field of logistics. Learn more at NationalLogisticsDay.com.
About Logistics Plus Inc.
Logistics Plus Inc. provides freight transportation, warehousing, fulfillment, global logistics, business intelligence technology, and supply chain management solutions through a worldwide network of talented and caring professionals. The company was founded over 23 years ago in Erie, PA by local entrepreneur, Jim Berlin. Today, Logistics Plus is a highly-regarded fast-growing and award-winning transportation and logistics company. With a strong passion for excellence, its 450 global employees put the "plus" in logistics by doing the big things properly, and the countless little things, that together ensure complete customer satisfaction and success.
The Logistics Plus® network includes offices located in Erie, PA; Little Rock, AR; Los Angeles, CA; Riverside, CA; San Diego, CA; San Francisco, CA; Visalia, CA; Atlanta, GA; Chicago, IL; Detroit, MI; Lexington, NC; Buffalo, NY; New York, NY; Olean, NY; Akron, OH; Cleveland, OH; Charleston, SC; Nashville, TN; Dallas, TX; Fort Worth, TX; Houston, TX; Laredo, TX; Winchester, VA; Madison, WI; Australia; Bahrain; Belgium; Brazil; Canada; China; Colombia; Czech Republic; Egypt; France; Germany; Hong Kong; India; Indonesia; Kazakhstan; Kenya; Libya; Mexico; Netherlands; Poland; Saudi Arabia; Singapore; Taiwan; Turkey; UAE; Uganda; and United Kingdom; with additional agents around the world. For more information, visit logisticsplus.com or follow @LogisticsPlus on Twitter.
###
Media Contact:
Scott G. Frederick
Vice President, Marketing
Logistics Plus Inc.
(814) 240-6881
scott.frederick@logisticsplus.com
Click image below to download the Logistics Plus logo: