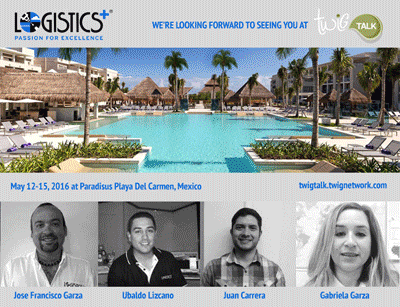 Last week, Logistics Plus representatives attended the Twig Talk 2016 annual meeting in Paradisus Playa Del Carmen, Mexico. Logistics Plus was a key sponsor for this year's Twig Network event which featured independent freight forwarders from more than 60 countries.  The attendees came together for face-to-face meetings, social events, meetings, and workshops. As promised, Twig Talk offered countless opportunities to develop new partnerships and strengthen existing ones.
Representing Logistics Plus at Twig Talk were Jose Francisco Garza Muraira, Ubaldo Lizcano, Juan Carrera, and Gabriela Garza. The animated GIF image shown the right showcases a few photographs taken by the LP staff at the event. Also, Gabriela provides the opening comments for the Twig Talk video below.
Twig Talk 2016 from Twig Logistics Network on Vimeo.