FOR IMMEDIATE RELEASE
Logistics Plus Delivers four, 2-million pound gas tanks from South Korea to USA
Online video provides amazing footage of the logistics required for the move.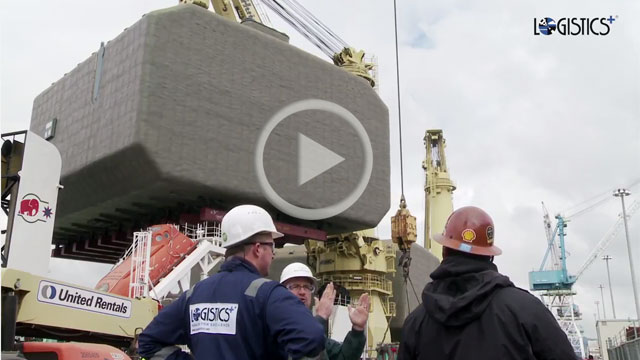 ERIE, Pa. (September 20, 2016) – Logistics Plus Inc., a leading worldwide provider of transportation, logistics and supply chain solutions, is proud to report that it has successfully delivered four 30x24x17 meter, 1038 metric ton (2 million pounds), empty ammonia (NH3) gas tanks from Onsan, South Korea to Portland, Oregon in the United States.  The entire project took over a year of planning, engineering, and execution, and it is the largest shipment ever handled by Logistics Plus in its 20-year history.
At the origin port in South Korea, 48-axle lines of self-propelled modular trailers were used to move the enormous tanks from their storage location onto two barges in order to transport them to the main loading port.  From there, they were carefully loaded sequentially onto a heavy-load ocean vessel. The vessel – one of only two in the world capable of handling the massive shipment – took 14 days to sail to the Vigor shipyard in Portland.  Using the vessels two massive 1500mt capacity heavylift cranes, all four tanks were discharged and loaded onto specialized modular trailers and carefully moved into final storage.
"We manage many large cargo projects all around the world, but this is the largest one we've ever coordinated in our 20-year history," said Frederik Geirnaert, project manager for Logistics Plus, and the leader for this project. "The Logistics Plus project cargo team has been at the center of this move in many ways. We handled the selection of the most skilled subcontractors, organized a tender for each part of the move, provided oversight and drafting of the method statement,  liaised with the marine warranty surveyor, provided on-site supervision of every move, and we also found on-the-spot solutions to the few small issues that inevitably come up along the way. In the end, our passion for excellence came through once again."
The project highlight video, which includes amazing live and time-lapse footage, can be viewed online at https://youtu.be/M1HwMlUKeOk (or by clicking the image below).
About Logistics Plus Inc.
Logistics Plus Inc. provides freight transportation, warehousing, global logistics, and supply chain management solutions through a worldwide network of talented and caring professionals. Founded in Erie, PA by local entrepreneur, Jim Berlin, 20 years ago, Logistics Plus is a fast-growing and award-winning transportation and logistics company. With a strong passion for excellence, its 400+ employees put the "Plus" in logistics by doing the big things properly, and the countless little things, that together ensure complete customer satisfaction and success.
The Logistics Plus® network includes offices located in Erie, PA; Alma, AR; Little Rock, AR; Los Angeles, CA; Riverside, CA; San Francisco, CA; Visalia, CA; Atlanta, GA; Chicago, IL; Detroit, MI; Kansas City, MO; Charlotte, NC; Lexington, NC; Buffalo, NY; Cleveland, OH; Charleston, SC; Greenville, SC; Nashville, TN; Dallas, TX; Fort Worth, TX; Houston, TX; Laredo, TX; Madison, WI; Bahrain; Belgium; Canada; Chile; China; Colombia; Egypt; France; Germany; India; Indonesia; Kazakhstan; Libya; Mexico; Poland; Saudi Arabia; Turkey; and UAE; with additional agents around the world. For more information, visit www.logisticsplus.com or follow @LogisticsPlus on Twitter.
Media Contact:
Scott G. Frederick
Vice President, Marketing
Logistics Plus Inc.
(814) 240-6881
scott.frederick@logisticsplus.com
Click image below to download the Logistics Plus logo: