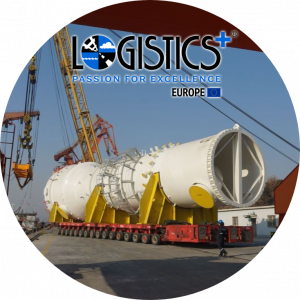 The Logistics Plus Europe team completed the successful delivery of four bioreactors for the Steelanol project of ArcelorMittal in Gent, Belgium. The four bioreactors each measured 34.2 x 8.34 x 7.85 meters and weighed 218 metric tons. In December, the bioreactors were loaded to a barge in Nanjing, China, for their transport to Shanghai. Upon arrival in Shanghai, the bioreactors were then loaded to the Baltic Harmony vessel to sail to Westdorpe, Netherlands.
Under supervision from the Logistics Plus Europe team, the bioreactors were discharged directly to the pontoon that would bring them to the final destination in Gent (a few kilometers up the canal). Due to high winds, the discharge ended up being suspended for half a day. The Europe team worked with the captain and crew to find a method to continue the discharge safely. The four bioreactors and their parts were then successfully delivered to the final site. They will be a key part of the facility that turns exhaust gas into biofuel and useful chemicals.
This project was a key step in ArcelorMittal's commitment to becoming the first fully carbon-neutral steel mill by 2050. Logistics Plus is proud to have played a small part in helping our client achieve that goal.
You can see pictures from this project below. To learn more about our project cargo expertise, click here.