Logistics Plus completed the successful delivery of a Slewing Arm Davit (SLAD) from Michigan to Everett, Washington. This delivery hit close to home for Erie, PA-based Logistics Plus. The SLAD delivered to Washington was the single piece of missing equipment keeping the USS Gridley docked at the pier.  If the name sounds familiar, it's because the warship is named in honor of Captain Charles Gridley, who was historically stationed in Erie over 150 years ago. Captain Gridley was in charge of the guns that fired the opening salvo at Manila Bay, Philippines (1898) after Admiral Dewey issued his famous words, "You may fire when ready, Gridley!"
Close Ties to Erie, PA

A native of Indiana, Captain Gridley began his military career at a young age. His class graduated a year ahead of schedule so that the young men could serve in the Civil War. He was stationed from 1871 to 1875 on the only United States Navy ship based on the Great Lakes at the time, the Michigan, in Erie, Pennsylvania. While stationed in Erie, he married Harriet. Throughout the city of Erie, PA, there are several references to Captain Gridley. A former elementary school was named after him and a community park (Gridley Park) where a monument still stands in his honor. When Captain Gridley passed away in 1898, services were held in Erie's Cathedral of St. Paul church. He was then buried in Erie's Lakeside Cemetary.
A Message From the Commanding Officer
Upon delivery of the SLAD, Bryan Schneider, the Commanding Officer of the USS Gridley, shared the following message with Logistics Plus Founder and CEO Jim Berlin.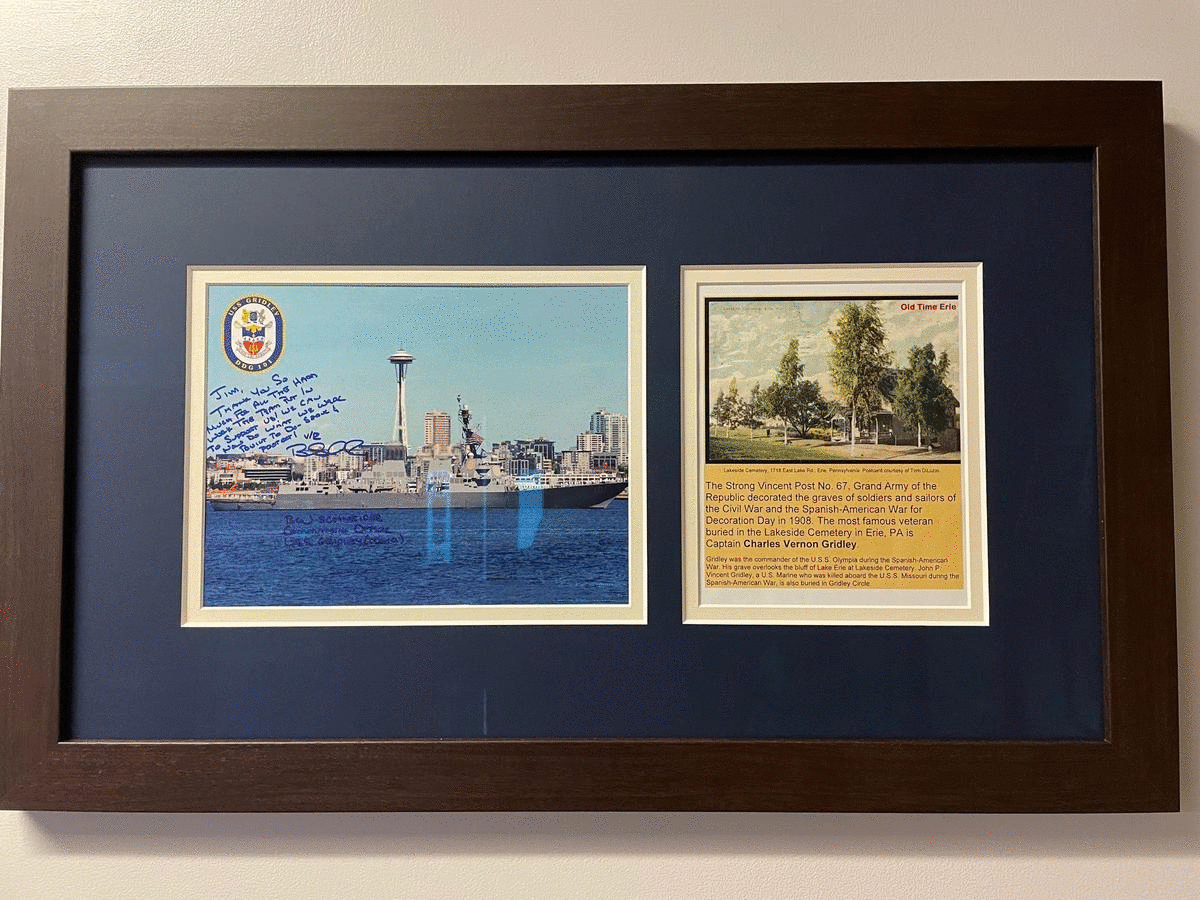 Good morning – my name is Bryan Schneider, and I am the Commanding Officer of USS GRIDLEY (DDG 101).  I asked to contact the company who provided the transportation and drivers that transported the Slewing Arm Davit (SLAD) from Michigan to Everett, Washington, and was provided this email address.
What Jay and Eric did for the GRIDLEY was nothing short of amazing!  For context, the SLAD has been the single piece of equipment keeping GRIDLEY moored to the pier until it is repaired.  My team spent over 200-man hours trying to fix it, and it was finally determined to be unserviceable. Hence, it needed to be replaced.  Driving through the parts of the country they did, during the time they did, and encountering the weather they did really showed an unwavering commitment to their job and duty!
We are working under a time crunch to get it replaced and tested to allow GRIDLEY to get underway and do what she was built to do; fight! 
I gave Jay and Eric a hat and coin to thank them for the dangers they put themselves in to get this piece of equipment to me so my Sailors can continue to serve and protect the country. Still, I wanted to let you know I really appreciate everything they did for me and the GRIDLEY NATION.
With all my gratitude, I want to thank you, the company, and Jay and Eric for supporting GRIDLEY to get us back out to sea and to serve and defend this country!
Thank you!
Very Respectfully,
CDR Bryan Schneider
Commanding OfficerUSS GRIDLEY (DDG 101)
Fire When Ready!
Mr. Schneider also thanked Logistics Plus by sending autographed pictures of the USS Gridley along with handwritten notes showing his appreciation. The pictures and notes are now framed and hanging in the Logistics Plus Global Headquarters' main lobby in Erie, PA.