FOR IMMEDIATE RELEASE
Logistics Plus Joins MACH-3000 Alliance Global Furniture Logistics Network
As a new partner, Logistics Plus will provide MACH-3000 Alliance members with world-class logistics solutions.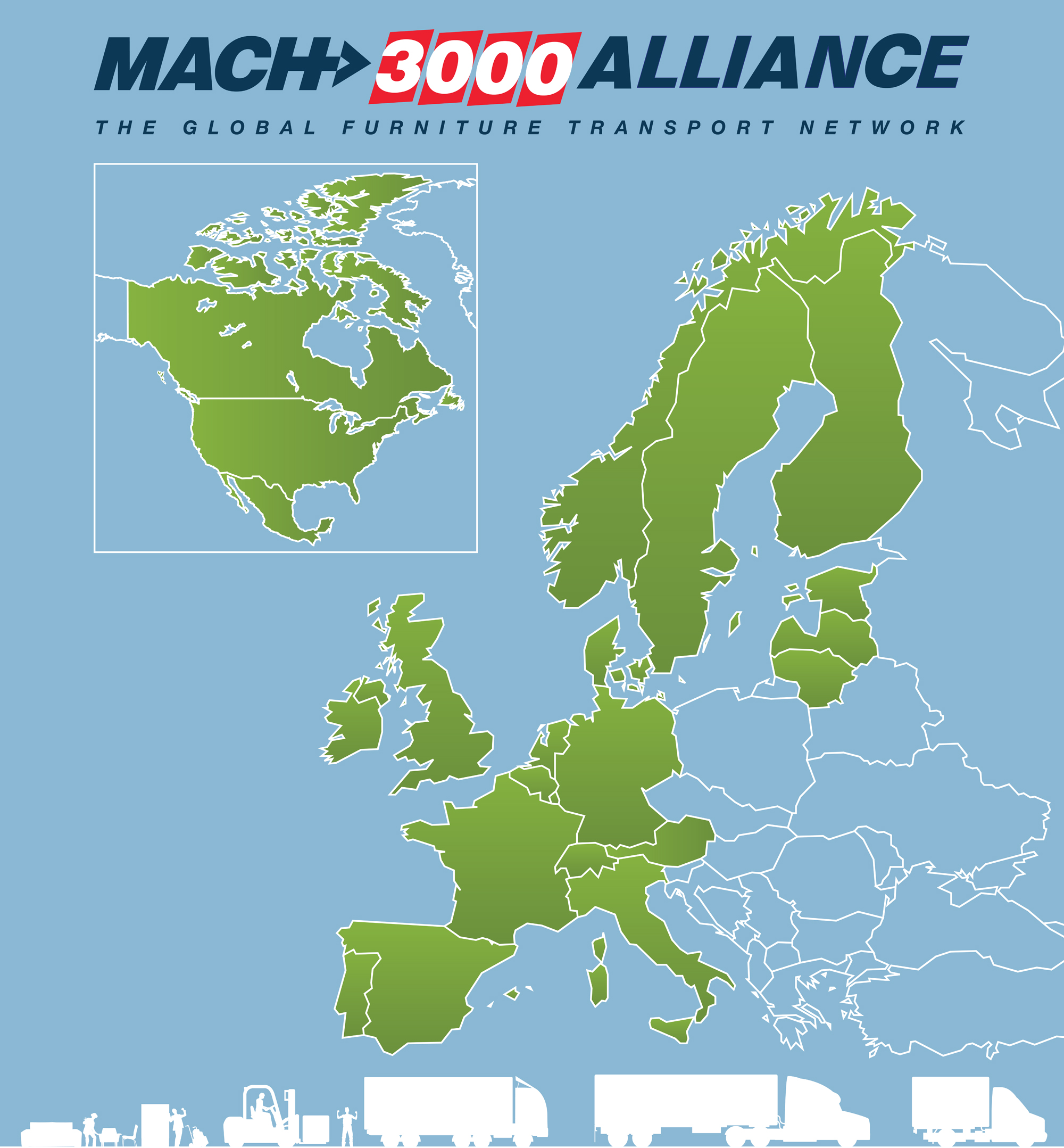 ERIE, PA. (July 9, 2019) – Logistics Plus Inc., a leading worldwide provider of transportation, logistics and supply chain solutions, is proud to announce it has been officially accepted as a member of the MACH-3000 Alliance in support of the global furniture logistics network. As its North American partner, Logistics Plus will provide logistics and supply chain management solutions to MACH-3000 Alliance members doing business around the world.
"An impressive presentation by Logistics Plus once again underlined the possibilities that we as a group now have, and that from now on we can count not only Europe, but also the USA, Canada and Mexico as part of our working area," said Jan de Greef, the President, Board of Directors for MACH-3000 Alliance. "Logistics Plus is the partner with the options that we as a group have been looking forward to. It is a huge step with unprecedented possibilities."
"Logistics Plus is honored to work in collaboration with our partners at the MACH-3000 Alliance.  We have been helping furniture, fixtures and equipment clients achieve success for many years," said Frank Knafelz, senior vice president for Logistics Plus. "We provide outstanding value-added FF&E project logistics and supply chain solutions with cost-effective operational execution, unparalleled visibility, and exceptional project management. We alleviate our client's pain points and headaches by solving their logistics challenges." Knafelz added, "No matter if it's a simple issue or complex problem, Logistics Plus is always available to assist."
About MACH-3000 Alliance
Its reason for being is the wish of several global furniture logistics specialists to provide their customers affordable high-quality furniture transport, not only in their own country, but also abroad. MACH-3000 does not only meet the need for B2B and B2C transport; the group also provides product handling, warehousing and value-added services such as (re)packaging, labelling, customs services, assembly, and disposal of packaging. If your job is to manufacture furniture or interior-related fragile items – or import these products from other European countries or overseas to USA, Canada and Mexico — you do not want to worry about transport. This is where MACH-3000 comes in. We take expert care of your furniture from A to Z. It's our job and we take pride in it! Visit mach3000.com to learn more.
About Logistics Plus Inc.
Logistics Plus Inc. provides freight transportation, warehousing, fulfillment, global logistics, business intelligence technology, and supply chain management solutions through a worldwide network of talented and caring professionals. The company was founded over 23 years ago in Erie, PA by local entrepreneur, Jim Berlin. Today, Logistics Plus is a highly-regarded fast-growing and award-winning transportation and logistics company. With a strong passion for excellence, its 500+ employees put the "plus" in logistics by doing the big things properly, and the countless little things, that together ensure complete customer satisfaction and success.
The Logistics Plus® network includes offices located in Erie, PA; Little Rock, AR; Los Angeles, CA; Riverside, CA; San Diego, CA; San Francisco, CA; Visalia, CA; Atlanta, GA; Chicago, IL; Detroit, MI; Lexington, NC; Buffalo, NY; New York, NY; Olean, NY; Akron, OH; Cleveland, OH; Charleston, SC; Nashville, TN; Dallas, TX; Fort Worth, TX; Houston, TX; Laredo, TX; Winchester, VA; Madison, WI; Australia; Bahrain; Belgium; Brazil; Canada; China; Colombia; Czech Republic; Egypt; France; Germany; Hong Kong; India; Indonesia; Kazakhstan; Kenya; Libya; Mexico; Netherlands; Poland; Saudi Arabia; Singapore; Taiwan; Turkey; UAE; Uganda; and United Kingdom; with additional agents around the world. For more information, visit logisticsplus.com or follow @LogisticsPlus on Twitter.
###
Media Contact:
Scott G. Frederick
Vice President, Marketing
Logistics Plus Inc.
(814) 240-6881
scott.frederick@logisticsplus.com
Click image below to download the Logistics Plus logo: