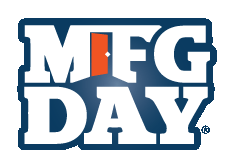 With today being Manufacturing Day 2016, Logistics Plus would like to acknowledge and celebrate the positive impact that manufacturers and the manufacturing industry have to our global economy.  Manufacturing Day℠ (MFG Day) is a celebration of modern manufacturing meant to inspire the next generation of manufacturers. As a part of this year's Manufacturing Day celebration, the Manufacturer & Business Association (MBA) – in conjunction with Techfest (and with the support of numerous other sponsors) – hosted its third annual all-day Erie MFG Day event at the Bayfront Convention Center this past Wednesday (October 5th).
This year's Erie MFG Day event featured more than 50 exciting exhibits, programs and demonstrations designed for participants to experience innovative manufacturing technology in a hands-on, interactive environment, as well as luncheon keynote speaker Easton LaChappelle. LaChappelle, whose appearance was presented by Howard Industries, is an inspirational inventor and founder and chief executive officer of Unlimited Tomorrow.
The Erie MFG Day event preceded the MBA's 111th Annual Event which showcased keynote speaker and "Shark Tank" star Robert Herjavec. Since Logistics Plus was a major sponsor for the event, our owner and CEO, Jim Berlin, was proudly recognized during the ceremonies. The Flickr photo album has some photos from the evening.