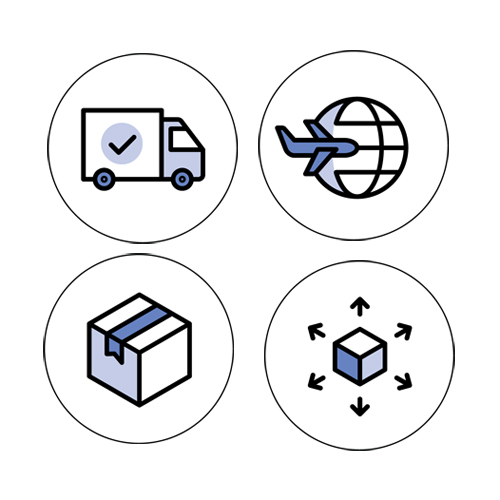 Logistics Plus is much more than a leading worldwide provider of transportation, warehousing, fulfillment, global logistics, business intelligence, technology, and supply chain solutions. We manage Global Logistics + So Much More. How do we even begin to describe our various services and solutions with so many capabilities? One way is around these four broad categories:

Logistics Plus is a leading manager of LTL (less-than-truckload) freight services, including standard, guaranteed, and volume options, and truckload and expedited freight brokerage services, including dry van and flatbed equipment options.
Standard Less-Than-Truckload (LTL)
Volume, Guaranteed & Expedited
Trade Shows & Events
Dry Van, Flat Bed & Refrigerated Truckload
Expedited & Exclusive Use
Cross-Border U.S. / Canada / Mexico
Parcel & Small Package
Rail & Intermodal
Domestic Air & Ocean
Freight Audit & Payment
Freight Claims Management
eShipPlus™ & MyLogisticsPlus™ Transportation
Management System (TMS)
MyFreightTrends™ Dashboards & Analytics

Logistics Plus is a leading international freight forwarder, global trade compliance manager, and award-winning project cargo company.
Import & Export Services
Air Freight Forwarding & Air Charters
Ocean Freight Forwarding (FCL & LCL)
Hand Carry Services
Break Bulk & Heavy-Lift Project Cargo
Over Dimensional, Oversized & OOG
Customs Clearance & Trade Compliance
Licensed Customs Brokerage
Remote Location Filing (RLF)
Compliance Consulting & Training
Free Trade Agreement Compliance & Audits
Importer of Record (IOR) & Exporter of Record (EOR)
Amazon International Shipping
eWorldPlus™ & MyLogisticsPlus™ Cargo Management Tools

Logistics Plus is a top dry storage warehousing firm, with nearly 3 million square feet across North America, with additional facilities worldwide. Our final-mile installation capabilities provide turnkey solutions for FF&E, OS&E, and IT infrastructure industries.
Inbound & Outbound Turnkey Process
Inventory Management
Pick, Pack & Ship
Order Entry & Reporting
Call Center & Returns Management
Amazon Prep & Storage
FBA & FBM Services
Final Mile Deliveries & Installations
Warehouse Management Systems (WMS)

Logistics Plus is a leading 3.5PL™ and 4PL company and an experienced provider of dedicated logistics, supply chain management, and technology solutions. Our global supply chain control towers, business intelligence tools, and shipment visibility applications make us a technology company as much as we are a logistics provider.
4PL & Supply Chain Consulting
Dedicated On-Site Resources
Global Sourcing & Procurement
Total Claims Management
LP FAS™ Freight Audit & Payment Solutions
Shippers' Interest Cargo Insurance
Linguistics & Translation Services
Global Supply Chain Control Towers
Mobile App for Warehousing & Tracking
MyLogisticsPlus™ Global Dashboards & Business Intelligence
Industry-Specific Solutions:

Aerospace, Aviation & Defense
Alcohol & Spirits
Chemicals & Refining
Energy, Solar & Fuel
Furniture, Fixtures & Equipment (FFE)
Financial Services, Data Servers & Technology
PPE, Pharmaceuticals & Healthcare
Retail & Distribution
Startups, Emerging Companies & More!
We are a 21st Century Logistics Company™. With our trademark Passion for Excellence™, we put the + in logistics by doing the big things properly, plus the countless little things that ensure complete satisfaction and success. Are you interested in learning more? Contact us today!