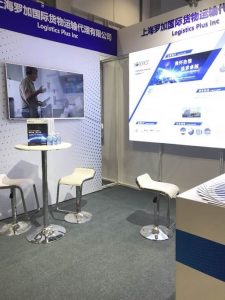 Members of the Logistics Plus China team recently attended a three day international transportation conference. From December 6th to 8th, the LP China team participated in the 2019 Zhejiang International Intelligent Transportation Industry Expo, the Future Transportation Conference 2019, and the Yangtze River Delta Region Comprehensive Transportation Development Forum. All three events were hosted at the Hangzhou International Exhibition Center. For the duration of the conference, Logistics Plus was proudly displayed with an international enterprise exhibition area and branded booth.
At the conference, Logistics Plus was recognized as a leading freight forwarder due to its wide-range of capabilities and service offerings. The Logistics Plus China team welcomed and held numerous meetings with companies located across Zhejiang province, and built good relationships for future business opportunities. One major person of note, the Principal of Transportation and Communication, visited the Logistics Plus booth to express his gratitude to the team and to invite Logistics Plus to participate again next year.
Photos from the three day conference can be seen below.