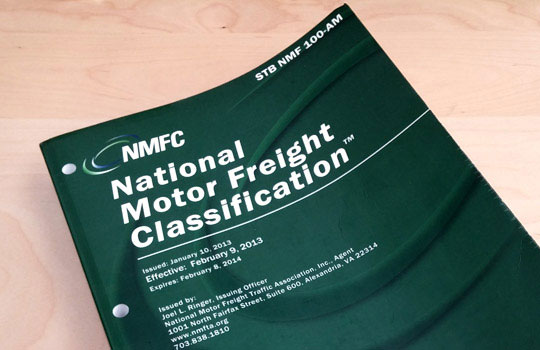 The Commodity Classifications Standards Board (CCSB) has published a new supplement to the National Motor Freight Classification (NMFC®). These NMFC changes are effective 04/09/2022.  Some notable changes are listed below.
Subject 1 – Cookware, Items for cookware made of different metals and alloys were all combined into one item (52880) with a full density class grouping. 52890, 52895, 52896, and 52900 all were canceled.
Subject 3 – Detectors, Fire, Previous Items (61552 and 61555) established class based upon actual value. These items were canceled and replaced by 61550 which establishes a single class of 110.
Subject 4 – Ink, Dry Ink or Toner, Item 101740 was changed from a single class 70 to three density-based classes. Dry Ink Cartridges were removed from 116030 and added to 101740.
Subject 5 – Cables, mechanical control # 39510, Class changed from a straight 70 to a full density item.
Subject 6 – Fruits, Meats, Vegetables, and Dairy Products #76850. Density breaks and classes changed. See Revised Item.
Subject 7 – Cough Drops or Throat Lozenges, #58730, Class changed from 65 to 100
Subject 9 – Tape Friction or Insulating including electrical tape, Items 49450 and 49680 canceled and replaced with 49680 which is a full density scale.
Subject 10 – Oils, Cooking Oils and vegetable Shortening, Item 73238 revised to include Cooking Sprays. Still class 65.
Subject 13 – Door Lites, Sidelites, or transom Lites, Old item 34943 is canceled and replaced with 34250 which has 8 subs based on Dimensions and density.
Subject 14 – Bags, apparel, bedding, clothing, or garment storage, Item 20510 is canceled and replaced by 20580 which is a full-scale density item.
Subject 15 – Foodstuffs: Kernels or Seeds (pumpkin or sunflower), Kernels, and Seeds removed from Item 73238 and moved to new Item 73705 which has three classes based on density.
Subject 16 – Combs, Brushes, Crimpers, Fluters, Straighteners or Wavers; Irons or Wands, Item 61370 is canceled and rolled into Item 62290. Class on 62290 changed from 85 to 125.
Subject 17 – Bins or Shelving, Item 82360 – Bins or shelving is canceled and added to item 82270 – Metallic or Wooden Furniture, which is a full density item. Previously is it was either 150 or 70 depending upon SU or KD.
Subject 18 – Binoculars, Binoculars, Field glasses, opera glasses, etc…now a straight class 150. Class used to be dependent upon actual value.
Subject 21 – Egg Beaters, Item 100520 which was class 85 now canceled, and now egg beaters are part of Tools, hand, kitchen, NOI, a full density item.
Subject 22 – Bayonets, Swords, scabbards, Class changed from 100 to a three-class scale based upon density.
Subject 24 – Definition or Specifications for Crates
Subject 25 – Filters, cigarette, Item 69083, Class changed from 100 to 200.
Subject 26 – Explosives, Item 64300, Item amended to clarify that explosives moving under its provisions 'must' be transported in DOT authorized packaging.
Subject 27 – Hazardous materials, ORM-D removed since Shippers are no longer authorized to use these markings.
Subject 36 – Petroleum Xylidine, Item 155460, Item canceled. See Item 45615 – Poisonous or Toxic Materials.
Additional detail is included in the DOCKET 2022-1 bulletin. As always, please contact us if you have any questions.