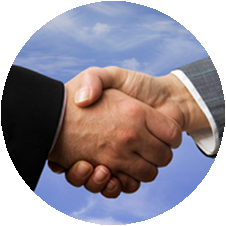 A recent article published in Logistics Management magazine and online at Supply Chain Management Review, written by Sara Banks from Accenture, suggests a strong collaboration between 3PLs and shippers can help to bring innovative solutions that will benefit both in the future. You can read the full article here: Time For Shippers & 3PLs to Innovate Together.
Accenture's research shows four capabilities shippers want from logistics companies. They are presented here with a note under each regarding Logistics Plus.
End-to-end services. Shippers are looking for a one-stop shop for all logistics services. This means that, beyond basic logistics, they want a trusted logistics provider that delivers new services such as advisory and supply chain consulting services, analytics capabilities, e-commerce channel management capabilities, and even algorithms that match demand and supply.
Logistics Plus has evolved by both necessity and design over the past 25 years. As a company known for saying YES, not NO, to unique supply chain challenges, we've developed a network of solutions that span the entire supply chain, from procurement to warehousing to final mile delivery. We call this Global Logistics + So Much More. With our 3.5PL and 4PL solutions, we strive to provide the end-to-end services our customers require so that they can remain focused on what they do best: making and selling great products. 
Better experiences. Shippers want a logistics partner that knows their business and will work with them to overcome challenges by bringing in customer-centric solutions. Our research revealed the need for 3PLs to build service consistency, flexibility, and responsiveness to create more satisfying customer experiences.
We are hardly perfect, but there is one trait that shippers can expect when they work with Logistics Plus: a contagious passion for excellence. It's that passion that has enabled Logistics Plus to earn numerous service and workplace awards and to have positive word-of-mouth referrals that have supported our continuous growth. It may seem like a small thing, but every one of our employees is provided a mobile phone with the expectation that our customers need and deserve flexible, 24/7/365 support. The freight never stops moving. 
Proactive, data-driven insights. Shippers are eager to partner with 3PLs that have data and analytics capabilities to provide visibility and insights to help them make better supply chain decisions. For example, digital twin capabilities that tap into data to simulate supply chain impacts will help 3PLs guide shippers in decisions with more certainty.
We like to point out that today, Logistics Plus is as much a technology company as a logistics company. And that is not by accident. The demands of our customers have driven us to make substantial investments in technology and business intelligence applications. Our global supply chain control towers and business intelligence tools are world-class. We know that information and insights are just as critical in today's supply chain as are shipments and freight. 
Purpose aligned to their values. Increasingly, shippers are choosing to work with businesses that are more integrated with theirs and share their values. For example, in the logistics space, sustainability is a key issue and becoming a "must-have" requirement for all players.
Shippers looking to align themselves with a 3Pl focused on employee diversity and environmental sustainability will find that Logistics Plus shares those same values. The 50 country flags that fly on top of our global headquarters, each representing the nationality of one of our employees, showcase our celebration of diversity. The fact that we were the first global 3PL to receive Plastic Neutrality Certification for offsetting 19 tonnes of plastic use in 2020 is a testament to our commitment to making the world a better place. 
The notes above are just a few thoughts regarding these four capability areas that are important to shippers. Logistics Plus is ready and willing to work collaboratively with shippers to create value and share in the benefits. Contact us to learn more.