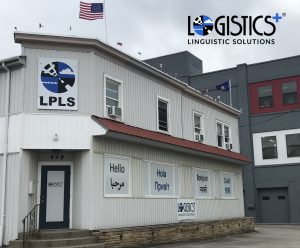 On December 11th, Logistics Plus Linguistic Solutions (LPLS) hosted its first annual Language Summit at the Logistics Plus Global Headquarters in Erie, PA. The summit consisted of introductions to the LPLS team, three main topics and areas of concern (details below), a Q & A session, an optional tour of Logistics Plus, and a complimentary lunch from The Brewerie at Union Station. In addition to the scheduled events, the LPLS team handed out t-shirts, phone chargers, and other items for the guests in attendance.
The three main topics covered during the summit were:
1.) Demographics of Erie County and the Surrounding Areas
The opening topic of the 2019 Language Summit began with a discussion regarding the demographics of Erie County. The approximate population of immigrants and refugees in Erie County is 20,000 people, while the approximate population for immigrants in Pennsylvania is 837,000. The LPLS team noted that they provided services for 33 different languages in the past 24 months within a 90-mile radius of Erie.
2.) Industry Standards and the Accreditation Process
Common industry standards for the State of Pennsylvania were the next topic discussed following the demographics conversation. The LPLS team elaborated on all the different certifications and testing required to become a certified linguist. The ten standards for performance and professional responsibility for LPLS interpreters are:
Accuracy and Completeness
Representation of Qualifications
Impartiality, Conflicts of Interest, and Remuneration and Gifts
Professional Demeanor
Confidentiality
Restriction of Public Comment
Scope of Practice (No Medial/Legal Advice or Personal Opinions)
Assessing and Reporting Impediments to Performance
Duty to Report Ethical Violations
Assume Nothing and Ask When in Doubt
3.) Addressing Provider Concerns and Issues Facing the Community
The final topic of the Language Summit focused on how LPLS differs from other language service providers and how they meet the needs of their clients. The team covered provider concerns such as no-show appointments, patient choice, cultural sensitivities, common community goals, and budgetary requirements.
The Logistics Plus Linguistic Solutions team would like to thank everyone who attended and participated in our inaugural Language Summit. The LPLS team hopes to make this an annual event, and expand the summit moving forward. Stay tuned for updates regarding next year's event. Photos from the first annual summit can be seen below.
Logistics Plus Linguistic Solutions
Email: info@lplinguisticsolutions.com
Phone: (855) 318-6348