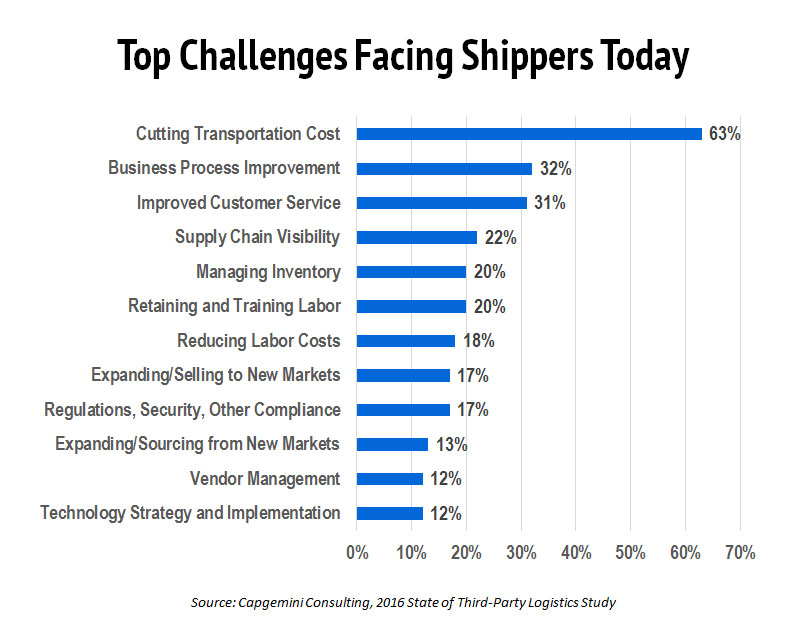 According to the 2016 State of Third-Party Logistics Study by Capgemini, the chart shown here presents some of the top logistics challenges facing shippers today. Not surprisingly, a majority of the study's respondents indicated "cutting transportation cost" as a top challenge. Beyond that, many respondents identified less obvious pain-points, but important considerations nonetheless. As the study indicates, shippers are demanding greater innovation and technology advances while simultaneously remaining cost-conscious.
Outsourcing all or a portion of your transportation to a third-party logistics (3PL) company – like Logistics Plus – is one way shippers are addressing many of these challenges. 3PLs can often provide the required expertise, people, capacity, warehousing and IT systems needed to help shippers reduce transportation expenses, improve supply chain visibility, manage inventory more effectively, and achieve regulatory compliance.
If your business is facing any of these challenges, Logistics Plus can help.
Cutting Transportation Cost
With 20 years of expertise, and a $135 million client-portfolio, Logistics Plus is able to leverage its size, strength and experience to secure highly discounted rates for ground, air, ocean, and rail transportation services. Since we are viewed as a reliable, large-sized shipper ourselves, the rates we secure are often better than what small or medium shippers would be able to secure on their own; and with a letter of authorization, we can even help large shippers negotiate the best rates on their behalf.
Business Process Improvement
With our 4PL or managed transportation solutions, we work as an extension of your team to identify the weakest links in your supply chain, and then we help you repair them. From planning and strategy to services and options – we'll help you streamline your supply chain so that you can focus on what you do best – manufacture and sell great products.
Improved Customer Service and Supply Chain Visibility
Our technology solutions, like eShipPlus and eWorldPlus, provide visibility to your products both domestically and internationally. Greater visibility leads to a more predicable experience and improved customer service. Our caring professionals will also 'go-to-bat' for you when problems occur to ensure the best possible outcomes for you and your customers.
Managing Inventory
We manage and operate dozens of warehousing facilities around the world. In the United States, we have West Coast, Southwest, Midwest and Northeast facilities with the capacity and expertise to manage both industrial and retail inventories (including Fulfillment By Amazon). Our WMS technology provides complete visibility throughout the entire process. You only source the space you need, the time you need it, and where you need it – nothing more.
Retaining and Training Labor and Reducing Labor Costs
As an extension to your team, we provide the skilled and trained logistics specialists you need – and we scale them according to your demand. That keeps your labor costs low and your headcount variable for when you need it most.
Expanding/Selling to New Markets and Expanding/Sourcing from New Markets
With 400+ employees working in 20 different countries around the world (and additional agents in virtually every country), we have the local knowledge and expertise you need to import, export, and transact globally. On the sourcing side, we can help you with services such as purchasing, expediting and inventory management. We can identify the product, negotiate the price, purchase it, ship it and deliver it to your door: truly one-stop shopping!
Regulations, Security, Other Compliance
Our full-service compliance department can quickly identify your needs, contain costs, and minimize your risk. Our customs specialists help you comply with existing government regulations and stay ahead of changing customs compliance laws to reduce your risk, eliminate errors, and lower your costs.
Vendor Management
Reducing inbound shipping costs is one of the easiest, yet most overlooked ways to reduce your overall transportation spend. Vendors applying a "prepaid-and-add" approach to your purchase orders may be costing you more money than you realize for inbound transportation. Logistics Plus can help you take control of your inbound orders by creating updated routing requests and shipping instructions, monitoring carrier compliance, and then consolidating and auditing all of your freight invoices.
Technology Strategy and Implementation
Our transportation and cargo management platforms are easy-to-use and can be fully integrated with your back office systems. EDI, API, or web services – our technology professionals will be able to recommend the right strategy and implementation plan for your situation.
So what's YOUR logistics challenge? We want to know. Just click the button below and tell us your most pressing transportation or logistics challenge. Our talented and caring professionals will work with you to provide a customized solution that addresses the logistics challenges that YOU are facing today.