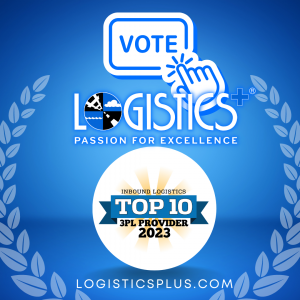 Each year, in its July issue, Inbound Logistics magazine publishes its definitive resource on third-party logistics (3PL) and the outsourced logistics market. Before the issue, they ask their readers which third-party logistics companies provide excellent service and publish the results.
More information from the Inbound Logistics website is below:
When shippers send distress signals, 3PLs spring into action. The providers that earn a Readers' Choice Top 10 3PL Excellence Award are among the most responsive and respected in the industry. Every year, our audience heaps praise on their favorite 3PLs, spotlighting standout qualities, from follow-through and flexibility to transparency and trustworthiness.
As a mid-sized 3PL, Logistics Plus greatly appreciates our customers' support to try and achieve this accolade. While we may be a long shot, we know that none of our competitors can beat us on our signature Passion for Excellence. Cast your vote for Logistics Plus today!
As always, we thank you for your business, loyalty, and support!