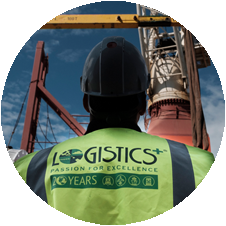 The Logistics Plus Project Cargo Team has been busy this month. So far in June, and as outlined below, we have managed a variety of projects, including the successful deliveries of windmills, locomotives, and sailboats (photos included in the video below).
LP Houston safely loaded a mud pump (38 tons) from Oklahoma to Tunisia.
LP Turkey safely delivered two windmill blade moulds (each 44.50 x 5.80 x 2.50 lxwxh – Gross 28 mt) from Izmir Port to the Factory.
LP Saudi Arabia safely delivered a sailboat for Saudi Princess.
LP Turkey safely delivered 104 metric ton transformers and its accessories from Turkey to Norway.
LP safely received and delivered mobile substations (78 metric tons each) that were imported from Portugal, eventually arriving at the port of Baltimore. They were distributed to power stations around the US.
LP India successfully delivered 10 locomotives from underhook to India.
LP Belgium and Turkey successfully loaded 42 pieces of windmill towers and generators from Izmir to the Netherlands.

Do you need assistance with your project cargo? Contact our global team of project cargo and break bulk experts.