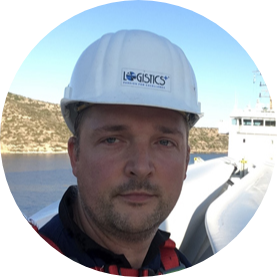 When duty calls, Logistics Plus answers. A customer has a critical shipment from Shanghai that requires the presence of our Global Project Manager, Frederik Geirnaert. Due to COVID-19 restrictions, Frederik had many obstacles to overcome to ensure this project's success. The story below is just another example of how our team of experts put the "PLUS" in LOGISTICS.  Here is Frederik's story…
Preparation
To say China takes COVID-19 seriously is a bit of an understatement; it is nearly impossible to travel to China right now if you're not a Chinese citizen. With the assistance of the LP Shanghai office, we started the application for a special COVID-19 visa for me back in May. As a first step, we petitioned the local government of the Hongkou district. An explanation letter was written outlining why I needed to travel to Shanghai and what the consequences could be if I weren't present at this project. Most applications get declined right off the bat, but we received a request for additional details instead. Over the next 3 weeks, we went back and forth until the Hongkou government was finally convinced of our case. After approval from Hongkou, my application was sent to the Shanghai government who gave me the final 'special invitation letter' to enter Shanghai.
After getting final approval and receiving my visa came the next challenge: finding a direct flight into Shanghai. As you can imagine, there aren't many options at the moment (check online and you will see what I mean). Since I need to be at the project site on September 4th (and quarantine for 14 days once I landed in Shanghai), I only had one option and booked the flight on August 18th.
In Good Form To Travel: My Daily Journal
Traveling in COVID-19 times is a bit different as you might imagine, but traveling to Shanghai during these times is next-level! To kill some time during my trip and 14-day quarantine, I've kept a journal of my daily routine that has vastly changed for this trip. Here it is…
Tuesday, August 18th: Heading to the airport
14.00h – I left home for Amsterdam by car. It's only 2.5 hours driving from Ghent.
16.30h – Before I arrived at Amsterdam Schiphol airport, I had to complete a local Dutch Health Declaration form.
16.45h – I checked in, they checked my visa and asked why I was traveling to China. They then asked me to go to gate E1.
17.00h – At gate E1 I had to complete an online form (health and quarantine declaration) for customs and local use. My temperature was also taken before was I allowed to go to gate E17 for boarding.
18.20h – I boarded flight KL857 to Seoul (my only stop before Shanghai). About 2 hours into the flight our temperature was taken once more.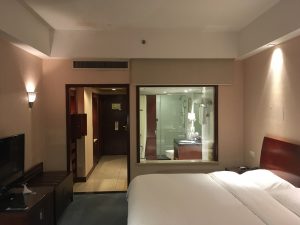 Wednesday, August 19th: Arriving in Shanghai
12.30h – We arrived in Seoul. We were not allowed to leave the airplane, but our crew disembarked and a new crew (probably COVID-19 approved by China) came on board. Our temperature was taken once more.
13.00h – We left Seoul for Shanghai.
14.30h – We landed in Shanghai.
14.40h – My temperature was taken once more when I got to the COVID-19 registration desks. I had to fill out a paper declaration, a waiver for the COVID-19 test, a processing form for the test, and a declaration agreeing to complete a 14-day quarantine. With the COVID-19 test form, I was given a sampling tube and had to go to the actual testing room.
14.50h – 2 throat swabs and 2 tickle-your-brain swaps up the nose later the nurse had collected sufficient samples for my COVID-19 test.
15.00h – I had to fill in the arrival card as usual and my temperature was checked once again before reaching the immigration desk.
15.20h – I picked up my luggage and found my way – or rather was sent through a maze of fenced corridors to the 'transport to Shanghai quarantine hotels' zone where I had to register at the Hongkou district desk. I had to fill out another online form, another paper health declaration and another waiver stating I understood the rules of quarantine.  Oh… and our temperature was of course taken once more.
18.50h – The people at the Hongkou desk had to complete another form for us, then we had to scan the QR code we got in a previous form before we were allowed to board the bus.
20.10h – We arrived at Bao Long hotel and were met by the nurse on duty. We had to complete yet another online health form and an online registration form as well as fill out a check-in form for the hotel.  Lastly, I signed a waiver for the hotel (that's 18 forms I've now filled out in case you are counting).
20.50h – I finally got to the room which meant I finally got to take off my mask! It had been on since I left and it was only removed once while I was eating.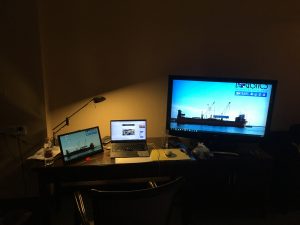 Thursday, August 20th: Setting up shop and playing by the rules
The beauty of my job is that – apart from attending a loading or discharge operation – I can pretty much work from anywhere as long as I have my laptop and decent internet connection. Turns out once more I was right to buy that 4G WIFI-pod at the airport since the hotel internet wasn't up to par. I also have a VPN (Virtual Private Network) to help me get around the firewall in China. Admittedly, Bing search works without a VPN, but Google does not.
Next up was setting up my desk. I wouldn't work for Logistics Plus if I didn't come prepared, would I? I always take a portable 2nd screen anytime I travel for more than 1 day. This time I also remembered to bring an HDMI cable. The first thing I did this morning was moved my desk next to the TV, hook up my 2nd screen, and plug the TV into my laptop with the HDMI cable. Now I have a 3-screen setup that rivals that of my office at home or in Antwerp. Today is also the first day of my quarantine since they don't count the day you arrive at the hotel. We have just 3 rules to follow for the next 14 days.
Stay in your room. There are only 3 occasions where you are allowed to open your door and that's when your food has been delivered. This comes only after you've received a message that you can take the food (even then you cannot fully step out of your room).
Report your temperature. They gave me a thermometer to take my temperature in the morning before 1100h and in the afternoon before 1500h. I have to upload the picture in another online form and declare that I have no symptoms or other ailments. I'm a bit puzzled at the trust they put in us for doing that without cheating. I can only assume most Chinese have a high sense of responsibility towards the community and their own health. By the way, I got my COVID-19 result in less than 24 hours and it's negative! Yay 🙂
Don't cause trouble. There is a Wechat group that we are to use for practically everything. It's an app that lets you do instant messaging with people and groups, share files, and more. Anyways, we have a Wechat group that includes all people in quarantine on our 7th floor (35 of us in total) as well as the customer service desk and nurse station. Unfortunately, everything on the app is in Chinese so I have to stay on top of my cross-cultural communication game.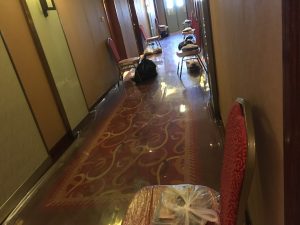 Friday, August 21st: Yummy in my tummy
Right after "How's the weather?" the second thing people tend to ask when you're traveling is "How's the grub?" Well, we get served 3  meals a day, Chinese food of course. Luckily I eat just about everything, even corn or pickled vegetables for breakfast. This morning breakfast was yogurt and something that faintly resembled a chocolate bun.  At lunch, we got an egg and minced meat dish I never had before. It was quite tasty! There is also plenty of water bottles in the room along with tea and coffee. The food is brought into our corridor and put onto a chair next to your door by hotel employees in full-body protective suits. And – very important – we have to wait for a message in our Wechat group before we can quickly open the door and grab the food.
If the food is not good enough you can order fruit, cookies, soda, and some other stuff from the hotel. Friends can also deliver food to the hotel and the staff will bring it to your chair. Unfortunately, we aren't able to have any fresh produce and the worst of all, no beer or alcohol. 🙁 Anyways, I will just stick with my water, coffee, and tea along with my Chinese meals. It's a great opportunity for me to lose some weight.
Saturday, August 22nd: A nice power nap
I had to take a power nap today (I'll explain). A big advantage of having a VPN is that it can get you an IP address in pretty much any country you want. For me, that meant connecting to a server in Belgium so that I could connect to my local Belgium cable network streaming service. I needed this so I could watch the Europa League final between Inter Milan and Sevilla. The only drawback? The game started at 3 am and I couldn't sleep after that. Hence a power nap was required.
Sunday, August 23rd: Keeping fit and tidy
It's quite touching to learn how many people are concerned about my wellbeing. My sister in law who is a nurse back in Belgium was the first to remind me that lack of movement can cause thrombosis. For those worried about me, don't! I actually think of these 14 days as some kind of boot camp. No alcohol, healthy food, and lots of time to exercise (in my room of course). I installed an app that helps me do a 7-minute workout 5 times a day. It's not the greatest app, but it works. Also similar to boot camp, I make my bed first thing in the morning every day. It's such a simple task you can complete to get your day started and it gives you a sense of accomplishment.
Monday, August 24th: Feeling at home
I'm starting to feel quite at home here. I have my workstation set up, I have my entertainment system streaming Netflix and other interesting content, I am regularly calling with friends and family, and I have this lamp here. It is the exact same model as a lamp we bought back in 2000 when I first moved in with my then-girlfriend (now wife) which has moved around part of the world with us and is today hanging in the hallway at home. Thanks, IKEA! Another thing I can't really go without is music. I'm not sure about you, but if I don't hear music during my day, I get grumpy. Unfortunately, my foresight had let me down here and I didn't bring any speakers. I found a solution to that problem; my helmet. For those less versed in engineering; when I put my phone backward into my helmet and play music, the soundwaves bounce off the inside of my helmet in a way that creates a much fuller and slightly louder sound.
Tuesday, August 25th: I am not alone
Today was a day full of discoveries. In the morning I caught a glimpse of another individual quarantined 3 doors down when we were both grabbing our breakfast. Nice to know others are also wearing their PJ's all day 🙂 At noon when I got the green light to grab my food, I saw 3 of the hotel employees near the elevator all wearing blue hazmat suits with a face mask and goggles. They keep a surgical operation here.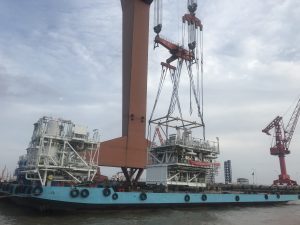 Wednesday, August 26th: Is it all worth it?
This will be my last entry for my journal. No, don't worry I am doing perfectly fine and I'm not even depressed in the least 🙂 I wanted to answer the question many people have been asking: Is 14 days in quarantine for just 1 project worth it? The reason for me coming here is that we have to load 4 LNG cargo tanks each weighing 155 tons for our customer. The value of these tanks is worth more than a couple of million dollars each. I've been working on this project for over 1 year and I've handled similar projects in the past. Needless to say, this operation is a little trickier and I need to be present to reduce the risk ALARP (As Low As Reasonably Possible). I can confidently say that in the whole world there's nobody who knows how to handle this move better than me.
Closing: My final thoughts
Yes, this is difficult. Not only on me but on my family who is missing me for my wife's birthday and the start of the school year. But if me being quarantined means keeping the virus out of Shanghai, a city of 26 million, I am all for it. If all those people can go about their lives without having to worry about wearing face masks, without restaurants being closed, without elderly homes going in lockdown, hospitals can work as normal; well then this is a very little sacrifice on our part that we as a family are willing to make.
So don't worry about me, I am in high spirits and I look forward to writing the next part of this article when this project is all said and done! Stay tuned.