FOR IMMEDIATE RELEASE
Logistics Plus Supply Chain Solutions Receives AS9120B Certification
Quality Management Systems Meet Standards Required to Service the Aerospace Industry.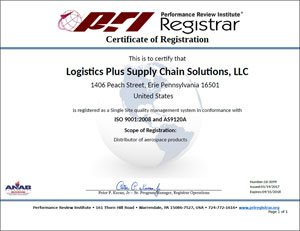 ERIE, PA (January 25, 2017) – Logistics Plus Inc., a leading worldwide provider of transportation, logistics and supply chain solutions, is proud to announce its Supply Chain Solutions division has received ISO 9001:2015 and AS9120B certification. The AS9120B Quality Management System standard, published by the Society of Automotive Engineers (SAE), includes the ISO 9001:2015 and specific quality management system (QMS) requirements related to the aerospace industry.
Based on ISO 9001:2015, but with additional requirements specific to aerospace distributors, the AS9120B provides suppliers with a comprehensive quality system focused on areas directly impacting product safety and reliability, including:
Improved product quality, traceability and reduced risk
Alignment with the best practices of the aerospace industry
Improved audit and surveillance efficiency
Enhanced traceability and anti-counterfeit measures
"Accreditation from PRI Registrar to the ISO 9001:2015 and AS9120B standards is proof-positive that Logistics Plus is committed to being a major player in the transportation and logistics of parts and components to the aerospace, military and commercial aviation industries," said Harald Aamodt, aerospace business development manager for Logistics Plus Supply Chain Solutions. "Certification sets us apart in the industry and demonstrates our commitment to quality, continuous improvement and customer satisfaction."
"Logistics Plus Supply Chain Solutions has demonstrated its commitment to world class quality by implementing and becoming certified to the ISO 9001:2008 and AS9120A standards. They have joined an elite number of organizations worldwide who have achieved certification to this globally recognized quality standard," said Randy Daugharthy, Director of the Registrar Program at the Performance Review Institute Registrar.  "PRI Registrar is proud to partner with Logistics Plus in this accomplishment and look forward to continued support of their objective of excellence within the aerospace industry."
About PRI Registrar
Since 1995, Performance Review Institute Registrar, a management systems registrar, has helped a multitude of organizations achieve and realize their true potential through the development of management systems and quality systems certification. As an affiliate of SAE International, PRI Registrar is a not-for-profit organization, uniquely motivated with a mission and commitment to raise the bar in any industry it serves. To learn more information, visit www.priregistrar.org or contact PRI Registrar at priregistrar@p-r-i.org.
About Logistics Plus Inc.
Logistics Plus Inc. provides freight transportation, warehousing, global logistics, and supply chain management solutions through a worldwide network of talented and caring professionals. Founded in Erie, PA by local entrepreneur, Jim Berlin, 20 years ago, Logistics Plus is a fast-growing and award-winning transportation and logistics company. With a strong passion for excellence, its 400+ employees put the "Plus" in logistics by doing the big things properly, and the countless little things, that together ensure complete customer satisfaction and success.
The Logistics Plus® network includes offices located in Erie, PA; Alma, AR; Little Rock, AR; Los Angeles, CA; Riverside, CA; San Francisco, CA; Visalia, CA; Atlanta, GA; Chicago, IL; Detroit, MI; Kansas City, MO; Charlotte, NC; Lexington, NC; Buffalo, NY; Cleveland, OH; Charleston, SC; Greenville, SC; Nashville, TN; Dallas, TX; Fort Worth, TX; Houston, TX; Laredo, TX; Madison, WI; Bahrain; Belgium; Canada; Chile; China; Colombia; Egypt; France; Germany; India; Indonesia; Kazakhstan; Kenya; Libya; Mexico; Poland; Saudi Arabia; South Sudan; Turkey; UAE; and Uganda; with additional agents around the world. For more information, visit www.logisticsplus.com or follow @LogisticsPlus on Twitter.
###
Media Contact:
Scott G. Frederick
Vice President, Marketing
Logistics Plus Inc.
(814) 240-6881
scott.frederick@logisticsplus.com
Click image below to download the Logistics Plus logo: